Project Guide
How to Spring Clean
---
Every home needs a thorough cleaning at least once a year to keep things looking shiny and new. Jump into spring cleaning this year with this checklist of quick projects. This guide will walk you through 10 essential spring cleaning projects you can undertake.
Tools
Cleaning Rags
Dusters
Handheld Carpet Cleaners
Handles & Poles
Microfiber Cloths
Pressure Washers
Refrigerator Parts
Scrub Brushes
Smoke And Carbon Monoxide Detectors
Step Ladders
Tarps
Upright Vacumms
Window Squeegees
Work Gloves
Materials
Air Filters
All Purpose Cleaners
Batteries
Carpet Cleaners
Caulks & Sealants
CFL Bulbs
Door Seals
Foam
Foam Tapes
Glass Cleaners
Leather Cleaners
LED Bulbs
Oven Cleaners
Sill Covers
Tarps
1. De-Clutter
Use a four bin cleaning system to eliminate clutter around your home. De-clutter the closet, garage, toy rooms, storage, bedrooms, and other spaces and label four containers: Keep, Give Away, Repair, Trash.
If something is damaged beyond repair, or has outlived its usefulness and would be unfit to donate, put it into the trash pile. Anything that needs a little extra TLC should go into the repair pile to be fixed at a later date.
Give away anything you haven't used in the last year. Check with your local donation center about their specific donation needs and requirements.
Keep what remains and reorganize in clear containers so you can easily identify the contents. Store winter clothing in a spare closet and bring warm weather clothes to the front of your primary closet.
2. Wash Windows
Clean your windows inside and out. Use a damp cleaning cloth to wipe dust from the window ledge and frame, and if necessary, apply wood polish to the frame. If a window has a grid, remove it and clean separately. Use glass cleaner and a lint-free microfiber cloth or squeegee to clean the window's interior.
To clean the exterior of the window, first use a hose on a low or medium pressure setting to spray off excess dirt and pollen.
If you don't have a tall ladder or would prefer the safety of remaining on the ground, use telescopic scrubbers to reach the windows on the second floor or higher. If you want to use a window cleaner, get a bottle designed for use with a hose and attach it to the nozzle. Spray the solution onto your windows, then scrub, rinse with clean water and let dry.
3. Dust
Using a telescopic pole duster, rid your space of spider webs along the crease where walls and ceiling meet. Wipe down corners and move down along the corners and walls, dusting art and lighting fixtures along the way.
Don't forget cleaning air vents, doorknobs, doors and switch plates with an anti-bacterial cleaner.
Put a tarp under your ceiling fan to catch any dust that falls, and clean the ceiling fan and blades.
Wipe down your baseboards and finish with a final dusting over everything in the room. Vacuum the floor to pick up fallen dust.
Remove books and knickknacks from shelves and dust or wipe them.
Cleaning dust from light bulbs and fixtures will brighten your rooms. Turn off your lights, wait for them to cool and dust with a soft cloth.
4. Vacuum
Move your stationary furniture out of the way and vacuum underneath – you'll be surprised what you find hiding under the couch.
Take down your drapes and curtains and go outside to shake out the dust. If you'd rather leave them in place, dust them with a vacuum attachment. If they need more cleaning, wash them or take them for dry cleaning, as instructed on the labels.
Use an attachment to vacuum your blinds or dust them with a microfiber cloth. Then use the attachment to vacuum couches and chair cushions. Wipe down leather with a soft cloth and a leather cleaner, or use the product recommended by the manufacturer. Wash pillows according to manufacturer's instructions.
While you're vauuming around doors and windows, check for cracks and gaps. Seal them with weatherstripping, caulk or insulating foam to save on energy costs to keep your home warmer in the winter and cooler in the summer.
5. Clean Floors
Wipe down all baseboards and tough-to-reach corners of the house. Vacuum then wash any rugs or mats, then vacuum all carpeted areas and use a carpet cleaner to make your floor look brand new.
For hardwood or tiled floors, sweep thoroughly, then vacuum on your cleaner's bare floor setting.
Use a cleaner designed specifically for your floor type to remove stubborn grime, then polish.
6. Make Your Kitchen Sparkle
Follow manufacturer's instructions to clean your oven. Remove all stove top burner pans and clean using a cleaner and brush, or replace with new ones.
Dispose of any expired food from the fridge, freezer and pantry, then wipe down these areas.
Empty the pans for your toaster and wipe down your coffee maker, mixer and any other frequently used kitchen appliances. Clean out kitchen drawers and wipe counters and other surfaces with a germ-killing cleaner.
Gently clean your refrigerator condenser coils using a coil brush. This will help save energy and remove dust buildup, extending the life of your refrigerator.
7. Change Air Filters and Add Smoke Alarms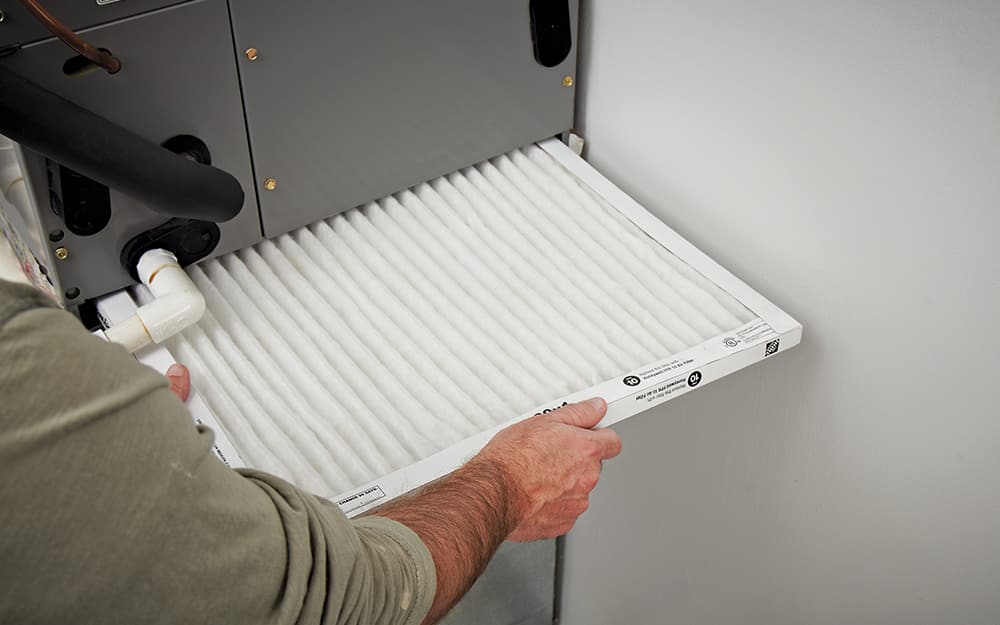 Check your air filters regularly. Dirty air filters make your heating and cooling systems work harder, which uses more energy and increases your utility bills.
 In general, replace your filters quarterly or every two months if you have pets. If a member of your household has allergies, change them more often or as needed.
Take your old filter with you when you shop, so you can find the right replacement.
For safety, keep a smoke alarm inside every bedroom or sleeping area and on every floor of your home, even those without sleeping areas. Install a smoke alarm in your basement, too.
Combination smoke alarms and carbon dioxide detectors are also available.
8. Check Carbon Monoxide Detectors
Check your carbon monoxide detectors every season, not just in spring, following the manufacturer's directions.
Keep fresh batteries in battery-operated models or replace the units as often as the manufacturer recommends, or as needed.
Be safe and keep a carbon monoxide detector on every floor of your home.
9. Take Your Cleaning Outdoors
Don't forget your gutters, which may be full of fallen leaves, nuts and other debris.
Use a ladder and wear thick gloves to clean gutters manually, or remain safely on the ground and use a telescopic pole with cleaning attachments.
10. Clean Your Outdoor Space
Remove furniture from your patio or deck to give your outdoor space a good cleaning.
Sweep off debris. Clean your patio or deck with a pressure washer or as directed by the manufacturer of the materials used on the patio or deck.
Clean furniture frames using a damp cloth and cleaner. Wash or clean patio and deck cushions according to manufacturer's instructions.
Learn how to spring clean, then shop The Home Depot for cleaning supplies to keep your house dust- and dirt-free. Need cleaning supplies same-day? No problem. Order online and pick up in store.