Project Guide
Christmas Tree Recycling
---
A decked-out Christmas tree is a sight to behold. It's also an environmentally friendly way to celebrate the holidays. The key is to dispose of your tree in an eco-friendly way. That means recycling, mulching or composting your tree. Live trees can have a very small carbon footprint when they do not end up in a landfill.
Christmas tree recycling lets you reuse your tree in ways that will benefit wildlife and your garden. Read on to discover interesting ways to recycle Christmas trees.
1. Prepare for Recycling
The difference between recycling your Christmas tree and sending it to the dump is significant. When live trees are sent to the landfill, their carbon footprint increases many times over. This year, celebrate sustainably and make a plan to avoid the landfill. Here are a few things to consider as you prepare.
If you decorated a real Christmas tree with roots this year, either in a container or balled and burlapped, make plans to transition it successfully to your landscape.
If you plan to recycle your tree, avoid materials like flocking spray in your holiday decorations. The chemical makeup of most of those sprays can make trees un-recyclable.
Before recycling, mulching or composting your tree, remove all Christmas ornaments, tinsel and garland.
Very large trees – greater than 7 feet – may need to be cut down to a specified size. Check the requirements for the drop-off program you select.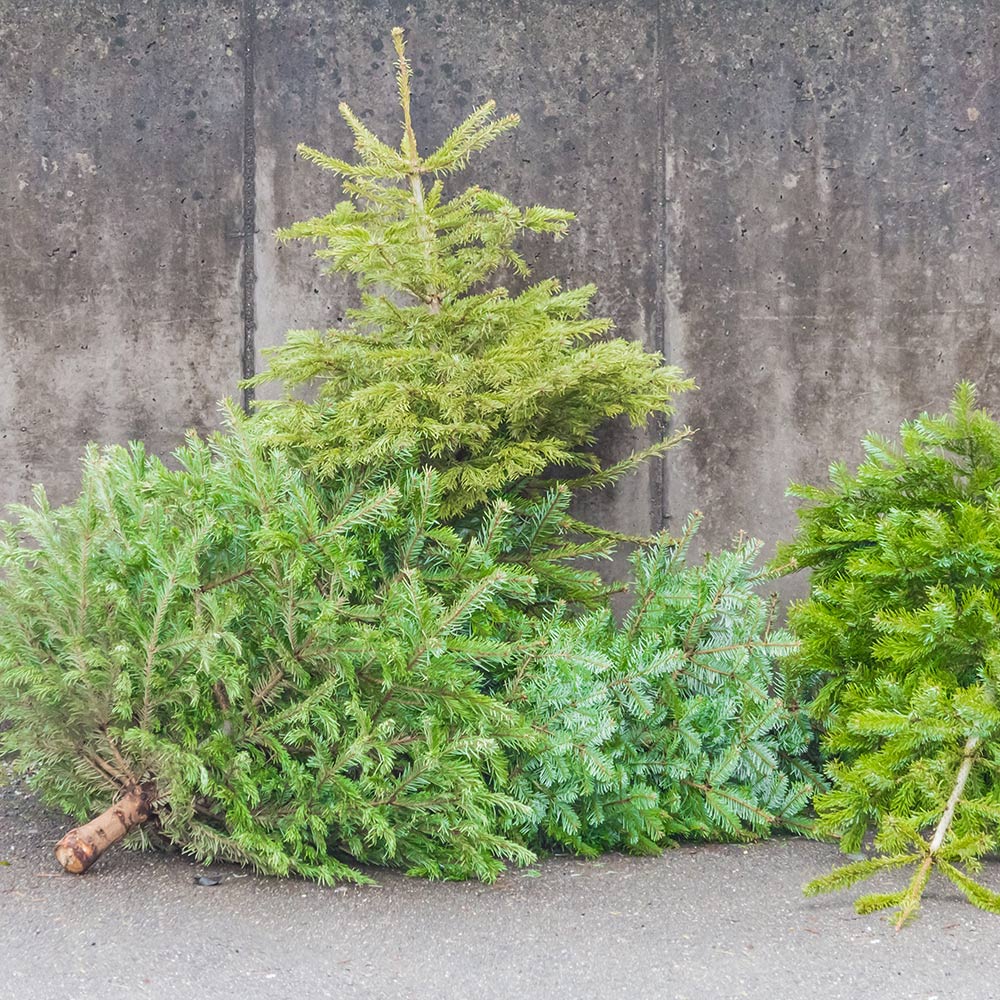 2. What to Do if you Can't Recycle
While tree recycling is a great way to say goodbye to the season, in some areas it simply isn't possible. If you can't recycle your tree, we've got a few ideas to help you avoid the landfill.
Chip and Mulch: Use the Christmas tree to make your own mulch. Rent or buy a woodchipper and process the tree. Store the mulch and age for at least one year before using. If gardening is popular in your neighborhood, this is a good community project. Designate a day for tree mulching and allow everyone who participates to take a share of the mulch.
Erosion Barriers: In some communities, discarded trees are kept intact and used to stabilize beaches and shorelines.
Feeding Fish: Trees can be sunk into ponds to make a feeding area for fish. Use this on your own property, or check with your community and find out if the city collects trees for this purpose.
Feeding Birds: Place the tree in your backyard to create a bird habitat for nesting and feeding.